About Chuck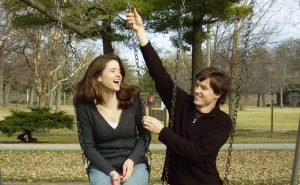 I have played piano for 25 years and I wish I had more time available for it now. If I could only play Bach and Rachmaninoff with some Chopin for spice the rest of my days, that would be just fine. I really love what I get to do. This kind of work is definitely not for everyone but pianos are fine companions through a workday. I am a proud Registered Piano Technician with the Piano Technicians Guild. I have learned a great deal with my local and national technician friends and enjoy a great inter-dependence while generally working alone.
That lady in the picture is my look-a-like wife and she's better on a swingset than I am. I am a professional amateur woodworker trying to build as much of the furniture in our house as I can, and is allowed. The opportunities to see the construction materials and methods of pianos have acted as mentors for the new work I produce. I'm trying to exercise some of those lessons in my own work, and at the same time further my abilities of repair and maintenance of your piano.
I'm Chuck Beck, and I hope to be the technician knocking at your door.